Frugal Friday – Dollar Store Cake Stand
Tweet!
Welcome to Frugal Friday at The Little Brown House! In the next couple weeks I will be
sharing some crafts made with items from the Dollar Store that equal $5 or less.
I am getting ready to enter Living With Lindsey's 5 dollar challenge.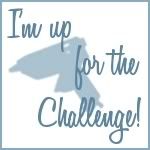 I would like to ask that no one take these ideas to use for the same contest.
Whew – glad that's out of the way – I hate confrontation!
On to the project. I have been to the Dollar Tree twice already – and spent about
$30 preparing for the $5 challenge… my husband just doesn't get that, but
I know you all do! Fortunately I found that I can enter the contest more than
once! So I am hoping to run each project by you – my amazing readers- and
get some feadback on which ones you like the most.
Here is what I started with for this Cake Stand.
Yes, these are those tacky tin burner covers. Two in a pack for $1.
The candlesticks were also – you guessed it- one dollar each.
Total project cost – $3. The contest terms say you can use glue, paint,
or paper that you already have at home.
I put the gorilla glue on the end of each glass candlestick –
Then stuck it on the back of the burner cover.
I did this with both covers, then weighted them down and let them dry.
Cute weights huh!
After they dried – I did a photo shoot with them.

Everybody need to get a little dolled up for a photo shoot – so…
In case you are interested – these are some chocolate coffee bars
I made – they are very yummy – find them here.
And don't they look cute on the plates!
Then after I ate all the cookies, I decided to try some muffins on it..
but wait – there's more!
I added the other tier and put a jar of butter and knife on it.
Wouldn't this make an adorable little continental breakfast set up!

You could add a little stack of plates alongside it…. oh – maybe like this!
I am liking them – they aren't sturdy enough for heavy items – but
work great for food or small knick knacks –
I could see giving these as gifts filled with goodies – and at 1.50 a pop – dang afordable!
Let me know what you think. Tacky Tin or Simply Sassy?
I'd love to hear from you – and thanks for stopping by! If you want to leave a comment
you have to go back up to the top of the post – Thanks!

I am linking up to these other fabulous parties – please go check them out!
Transformation Thursday at The Shabby Chic Cottage
Simply Sweet Home – Friday Favorites

Show and Tell at My Romantic Home
Lit And Laundry – Finished For Friday

Finding Fabulous Frugalicious Friday
That's So Cruegly – Craft Friday
Funky Junk Interiors – Saturday Night Special